Accommodations
Novotel London West Hotel

Reservations
You can make your reservations by email or phone. Please make sure to reference the group block MCEDD 2020.
By Email – [email protected] reference MCEDD 2020
By Phone – +44 0 208 741 1555 reference MCEDD 2020
---
Group Room Block Rate:
Sunday 19/04 – £135
Monday 20/04 – £169
Tuesday 21/04 – £169
Wednesday 22/04 – £169
Thursday 23/04 – £169
*Upgrade: £30.00 per room per night for upgrade in Executive Premium Bedroom.
£10.00 Supplement is applicable for double occupancy.
Rates quoted above are inclusive of English breakfast and VAT
Pre + Post Rooms: Pre and post rooms at the conference rate are based on availability. If you need pre and post rooms, please book early and reference the group block MCEDD 2020.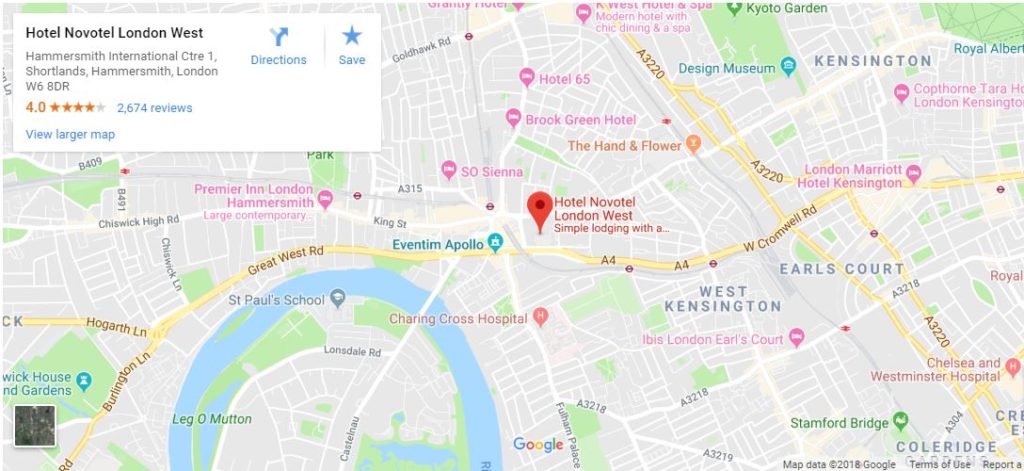 Novotel London West | 1 Shortlands, Hammersmith, London. W6 8DR United Kingdom
---
Cancellation Policy:
No cancellation charge applies prior to 14:00 (local time), up to 7 days prior to arrival. Beyond that time, the amount due is not refundable, even if the booking is cancelled or modified.
---
Guarantee Policy:
All reservations must be guaranteed with a credit card valid at the date of the start of your stay, unless otherwise specified.
---
Special requirements
Accor will accommodate any special needs you may have to the best of our ability. If you have specific requirements you would like us to consider (e.g. to assist with a disability) please contact the hotel at your earliest convenience.
---
Check-in Policy
Check-in time 14:00.
---
Children Policy
Accommodation and buffet breakfast are free for two children under the age of 16 staying in their parents' or grandparents' room and having breakfast as a family.
---
Special term for children
Reservations can only be made by guests 18 years old or over. When arriving at the hotel, no guests under 18 years of age will be permitted to stay without being accompanied by a guest 18 years old or over.
---
Questions:
Hotel Reservations: +440208741 1555
Quest Group Contact: Elena Parsons – [email protected]