Call for Abstracts Closing Soon
The call for abstracts is closing soon! If you would like to submit an abstract to be considered in the 2018 Technical Program please see our guidelines and submission page.
Technical topics include:
Macro Industry Topics & Trends
Subsurface, Well & Drilling Technology and Assets
Subsea Technologies (production, processing, monitoring, umbilicals, power, IMR, etc.)
Pipelines, Flowlines and Risers (steel, flexibles, leak detection and prevention, flow assurance, configuration, etc.)
Floating Production Systems (novel technologies, case studies, FLNG, mooring solutions, turrets, etc.)
Marine Construction (installation, offshore construction, fleet opportunities/challenges, etc.)
HSE-Health, Safety & Environment (How? What Role? Does HSE Play in the Upturn? Please address one or more of the following: Is Industry loosing experience and knowledge? What are solutions for this? HSE Effects on: Drilling & Production Operations; Asset Integrity; Safety Response/Recovery; Incident Mitigation; Simulators for emergency situations; Vessel operations.)

---
Welcome to the
Advisory Board
We are pleased to welcome new ENI, BP, Seaway Heavy Lifting and SUT members to the Advisory Board. View More >>
---
Operator Panel Sessions
MCEDD 2018 will open its conference program with two thought provoking panel sessions designed to "set the stage" for the traditional technical program. The 2018 event begins with a Welcome Address at 4pm on Monday, 9 April, 2018, which will be immediately followed by our first panel session. Tuesday's early morning session provides a follow up to recent industry efforts to increase efficiency across the deepwater market segment.
Monday, 9 April 16:30 – 18:15
Operator Panel Session: Deepwater Vision, How Do We "Lock-in" What We Have Achieved? An Operator discussion of differing approaches to deepwater development, compare and contrast methods and benefits and the value proposition their respective strategies are delivering to shareholders.
Tuesday, 10 April 9:00 – 10:30
Operator-Contractor Panel Session: What are the Supply Chain Effects Following Merger Mania and Large Company Integrations? Discuss efficiency increases throughout the entire upstream value chain. Are we accruing cost savings? How do operators and contractors best share the benefits of added value?
---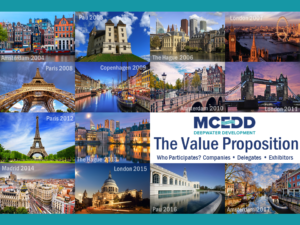 ---
Early Bird Registration Open!
Save $350 on Conference Delegates until
January 30, 2018
Conference Delegates gain access to all technical sessions, networking events, breakfast, lunch, breaks and the exhibition hall all 3 days!
Full price is $1850 but register now and for just $1500

---
Quest Offshore & Gulf Publishing Announce "Gulf Quest LLC"
October 3, 2017
Houston, Texas – Gulf Publishing Company and Quest Offshore Resources have announced the formation of Gulf Quest LLC for the joint operation of offshore conferences, including the leading global deepwater technology event, Marine Construction Engineering Deepwater Development (MCEDD).
---