Sponsorship and Exhibit Opportunities
MCE Deepwater Development is the only event dedicated to the technical opportunities and challenges facing deepwater operators.
With global attendance from leading IOCs, NOCs and Independents, MCEDD is the venue to present your deepwater solutions.
For details of our sponsorship and exhibit programs, please contact Bo Howard, Global Event Sales Manager.
2023 Prospectus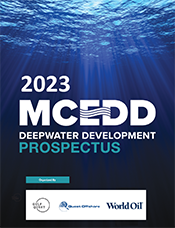 THANK YOU TO OUR SPONSORS